Wednesday, August 29, 2012
Come Early (You'll Thank Us Later)
There is so much to share, see and experience during Imaging USA that three days are just not enough. That's why we added THREE EXTRA DAYS prior to the convention, so you can enjoy our more in-depth, more intimate pre-convention classes.
Held January 17-19, these pre-convention options do mean an additional registration fee, but it's worth it. In return, you'll get one, two, sometimes three days of focused education to really fill up your brain on a topic. It's the power of immersion!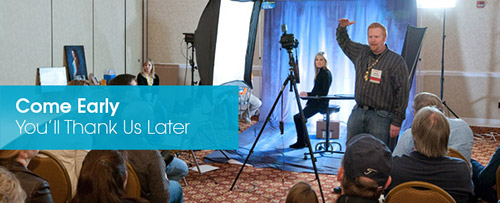 Here's a quick overview of some classes you should check out online:
Learn by doing with a combination of different "Hands-On Photography" classes.
Get growing this year with "Business Basics for Wedding Photographers," "Business Basics for Portrait Photographers" or "Business Breakthroughs"—workshops from PPA's Studio Management Services, a support group of business & marketing superstars.
Improve your lighting, posing, sales & post-processing for any number of specialties, from celebrity kids to private schools & weddings.
In fact, the "Hands-On Photography" classes alone will show you how to handle simple commercial photography, fashion lighting and retouching, studio lighting and posing for seniors, and more! There will be six of these classes on January 19, and each one is repeated three times during the day. This way, you can build the perfect day of hands-on shooting with up to three different instructors.
The only caveat to these pre-convention classes? They fill up fast! So if you see one you can't do without, snap it up soon. Get started by browsing the current list of pre-convention classes now. More classes and descriptions are being added as they come in, so don't forget to check back too!