Wednesday, December 05, 2012
Get Connected with Imaging USA (& reap the rewards)
We want to make it easier than ever to connect with everything and everyone at Imaging USA...and that means taking your experience to the social media realm! Connecting with us here has some real benefits. Let us count the ways...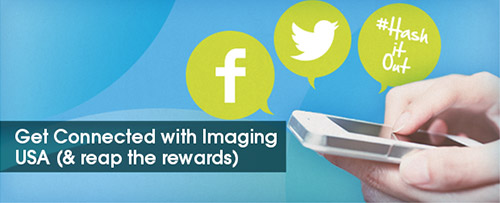 Before Imaging USA:
At Imaging USA:
Share your questions, ideas & solutions at the daily, interactive #Hash It Out smart talks via tweets (#hashitout), texts (404-382-8034) or in person to our marvelous moderators, Allison Rodgers & Angela Carson. Check the class schedule for times!
Look up near the Imaging EXPO entrance to see all the Imaging USA tweets on the big Tweet Board screen! Then tweet what YOU think about the show: #IUSA13 (or text 404-567-4691)
Go beyond business cards with the Imaging USA 2013 mobile app's Contacts feature. Want to connect with someone you meet at the show? Just search for their name in the app & ask if they want to share info—if so, their contact info will automatically sync to your My Contacts in the app!
Enjoy free Wi-Fi in all classrooms. 'Nuff said.
Pretty rewarding, huh? It really is amazing what we can all learn together, so get started by downloading the app and following us online!